Pothgul Temple ( Viharaya )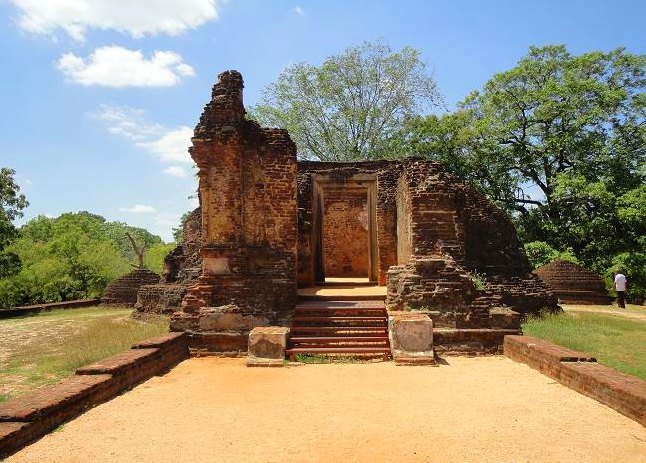 This temple presently known as Sri "Gnanobhasa Pothgul Vihara" was started as welfare committee and reading room with the help of the welwhisers of the area in the year 1954. An attempt had been made in 1961, by the then member of parliament to take of over the land. With the untiring efforts of the then incumbent this action was averted; but the welfare and reading activities became defunct. An ardent Buddhist, late Mr.H.A. Caldera donated Rs.100,000/= for the erection of 2 storey Building . Further, Late Rev. Kandawala Dhammalankara Thero of Alan Mathiniyarama of Kirulapana encouraged the Construction of this building with the generous contribution of the welwishers.
In 1964, late B.Lional Perera and S.A. Somapala took initiative in developing the library. After the demise of Rev.
Moragalle
Gnanobhasa Tissa Thero, the founder of this library, Rev. Kaluwamodara Rahula Tissa Thero was appointed as the chief incumbent of this Vihara.
This is the oldest library complex found in Sri Lanaka. Pothgul means for place to store books. This viharaya was build by king Parakamabahu the Great (1153-1185 AD). This was renovated by Queen Chandrawathi. a consort of King Parakarmabahu. Pothgul Viharaya is a Gedige type structure, build in the middle of the square shape stage. The interesting point in this building is the circular structure in the middle, seems the main library, made out of brick. The circular shape roof even made out of bricks it seems. There are remaining of four small stupas at the four corners of the floor. Out of it there are remaining of the several buildings which were used as awasa ( residential cells where Bikkus live).

Pothgul Viharaya desig is closer to the most of the old vihara found in Cambodia.
Recommended review time for sightseeing: 1 h