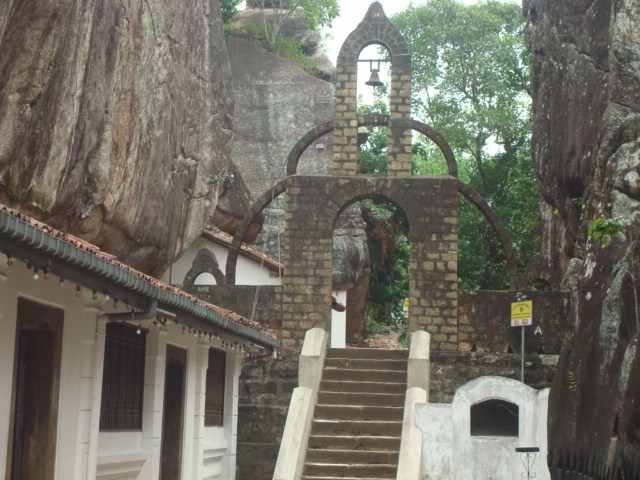 Derived from the Sinhala word 'Aloka Viharaya' giving the meaning as 'Lighted Temple', Alu Viharaya/Aluwihare Cave Temple is a monument in Matale district and is of critical importance to Buddhists in Sri Lanka. Thripitakaya which contains the doctrine of Lord Buddha was committed to written in this place. The contents were passed from generation to another by word of mouth until then.

Situated in Matale disteict, Alu Viharaya has a history dating back to the reign of King devanampiyatissa. The king is said to be the creator of the temple. It is said that the first stupa ever to built in Sri Lanka, Thuparamaya in Alu Vihare was built and the Bo tree here was planted by the king himself and then built several more stupas and planted Bo trees in other parts of the country to propagate Buddhism.

This majestic temple has caves and fascinating stories are behind every one of them. The magnificent rock towards the east of the main cave was giving a shadow to the cave front and for an unknown reason, the cave had given more light than it was suppose to have. The Sinhala word for light being 'Aloka' the cave became to be known as 'Aloka Lena' and then became Alu Lena. After building the temple, it became Alu Viharaya.

Legend says that there was a Buddhist monk reading 'Atuwa' inside Alu Lena and the King of all Gods, Sakra had provided light to him and therefore it became Alu Lena.

Despite being burnt and destroyed many times by Dutch and English invaders the temple complex is still adored by Buddhists worldwide. The properties of the temple including the Blue Sapphire embellished in God Vishnu statue were distributed among them. When burning down the temple by Malay armies sent by British rulers, Buddhist clergy lost the invaluable heritage existed for centuries forever.

The annual perahera of Alu Vihare takes place every April hosting a large number of audiences with ease. The Thripitaka written on Ola leaves, monks chanting pirith, dancers performing Kandyan, low country, Sabaragamuwa and Hindu dances, drummers and number of elephants make the pageant more like a multi-cultural occasion.
Recommended review time for sightseeing: 1 h