Kalutara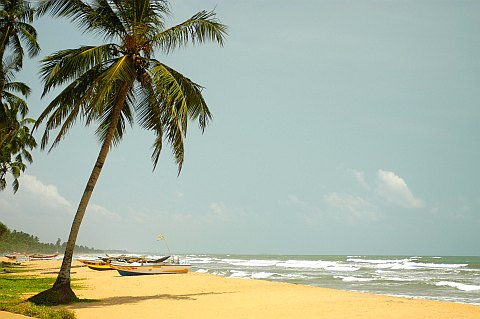 Passing along the coastal road travelling South from Colombo, the first large town is Kalutara. Kalutara is a resort town located approximately 40km south of Colombo, Sri Lanka's capital. Once an important spice-trading center, the city's name is derived from the Kalu Ganga River ('Black River' in native Sinhala). In the 11th Century, the town was temporarily made a capital on the orders of a South Indian Prince. The region was later planted with coconut trees, whose by-products are used for both internal and external trade. The location also boast fortifications dating back from the times when Portuguese, Dutch and British vied for control of the area.
Kalutara has still to recognise the potential for tourism in the area and it is only a few enterprising individuals that have opened souvenir and tourist shops close to the hotels. Restaurants are still confined to the hotels in the immediate area since eating out as a pleasurable pastime has yet to develop. Fortunately, with Colombo only 43km distant and taxis freely available and economical it is possible for the determined to spend an evening in the capital City, where there are some very fine restaurants and clubs for those who seek lively entertainment. The 38-meter long Kalutara Bridge built at the mouth of the Kalu Gang River serves as a major link between the country's Western and Southern border. At the southern end of the bridge lies the 3 stories-high Kalutara Vihara, a Buddhist temple, which is one of the major attractions on a visit to Kalutara city Sri Lanka. The temple built in the 1960s holds the distinction of being the only shrine in the world that is hollow. The city is a huge attraction for the tourists.
One of the most popular beach villages near Kalutara - Bentota.