Weligama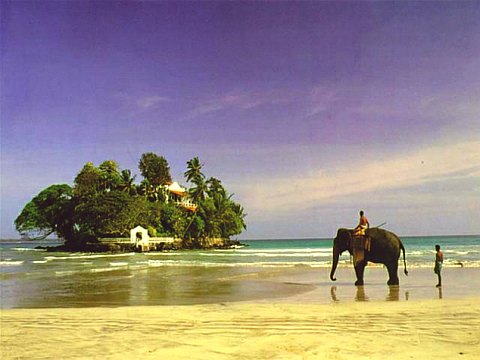 Weligamais a popular tourist destination and hosts several boutique hotels. The name Weligama itself, in Sinhala, means `Sandy Village' which is a direct reference to the sandy bay beach. The loveliest stretch of the bay beach is round the island of Taprobane. Most often dozens of traditional colorful outrigger boats are seen pulled up following the night fishing expeditions.

Weligama beach is famous for its stilt fishermen. In chest-deep water on the beach, just few meters off-shore, are the stilt fishermen perched on a cross bar- one on one- of a single pole planted into the sea-bed. These fishermen, the poorest of the poor, spend hours with their lines cast out to the sea to catch small fish.

The most enchanting feature of the bay beach is the small island called Taprobane, just 200 meters off the shore at Weligama. Peeping through the lush tropical greenery of the rocky island is red-tiled roof of the exquisite white villa built on the centermost elevation. The villa was built by exiled French Count de Maunay, who owned the island in the 1930s. During the 30 years that Count de Mauny made Taprobane his home playing host to Kings, Statesmen, Aristocrats, Governors and Magnates. The villa and its gardens with the tropical beauty therein enraptured all the distinguished guests of the Count. Today the whole island and the villa that consists of 5 suites and infinity swimming pool, managed by a staff of five members are available for holiday makers.

At the western end of the town, near the railway track, stands a 3meter high rock carved statue of a regal figure. It was believed to be a statue of a king whose identity hasn't been established today. According to the legged, tha statue depicts an eight or ninth century provincial ruler who had revered from leprosy by drinking coconut milk for three months. The other belief is the statue depicts the Mahayana Bodhisahva, possibly Avalokitesvara. The carvings of mediating Buddhas in the tiara of the statue lend credence to the belief concerning the Bodhisatva.